Sometimes you just really feel like takeaways, but you know that you would be better off to make them yourself. This is where my Skinny Lemon Chicken recipes comes in, it's a great alternative to takeaway lemon chicken you can get but has all the great flavours of take out.
I realised that I don't post many savoury dishes on the blog (mostly because I have a huge sweet tooth, and because our savoury meals are largely, meat & vege and don't require any real recipe).  I thought this Skinny Lemon Chicken Recipe would be a welcome addition to the recipe archives for those of you who are more into savoury dishes and feel like lemon chicken but want a better for you version than the takeaway stores.
I've said before how much I love all things lemon (other than really lemony lemon water – I'm a bit of a walking contradiction really!) and I've featured a number of lemon based recipes so far, like my Super Simple Healthier Lemon Curd, Healthy Lemon Smoothie and more recently my Healthier No Bake Lemon Coconut Cheesecake.
This skinny lemon chicken has a lot less sugar than regular lemon chicken and is not deep fried, yet it still has that tasty fried texture. Kyle said is reminded him of a cross between lemon chicken and KFC, which is kind of interesting!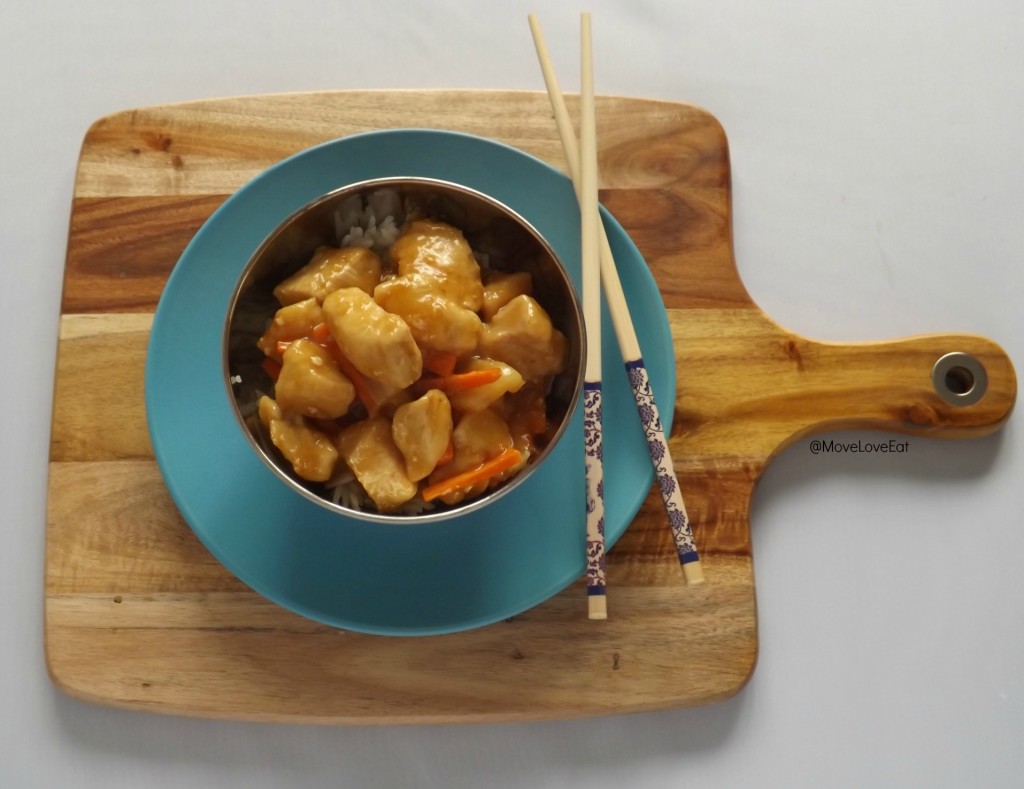 Whilst this skinny lemon chicken still contains sugar I have used coconut sugar which is less refined and the rest of the sugar comes from the honey and the juice from the pineapple. If you make sure you buy pineapple in it's own juice rather than in syrup you will be saving yourself a lot of refined sugar, you could also not include the honey if you wanted too as well.
The beauty of a dish like this skinny lemon chicken is that you can change just one ingredient in the sauce to make it suit your taste more. This version is on the sour side rather than sweet and the lemon really shines through but if you prefer a more subtle lemon flavour then you can reduce the amount of lemon in the recipe to create something more to your tastes.
Skinny Lemon Chicken [Takeaway Alternative]
Author:
Amanda @ Move Love Eat
Ingredients
800g Chicken Breast
½ Tablespoon Honey
3 Tablespoons coconut sugar
1 Tablespoon Soy Sauce
Juice from one large tin of pineapple chunks
½ Cup Lemon Juice
2 Tablespoon Chantal Organics Apple Cider Vinegar
3 Teaspoons Cornflour (Plus cornflour to coat the chicken)
1 Large Carrot
⅓ Large Tin of pineapple chunks
½ cup water
Rice (Quantity depends on how much you eat!)
Instructions
Put the rice to cook in the rice cooker
Chop the chicken breast into small chunks then roll in cornflour to coat.
Cook the chicken in a frying pan with a generous tablespoon of an oil of your choice in the bottom. (You may need to do in two batches if your frying pan is not big enough)
Put the pineapple juice, lemon juice, soy sauce, apple cider vinegar, honey, coconut sugar and soy sauce in a saucepan and cook until the honey melts and combines.
Add about ¼ cup of water to the saucepan and combine.
With the remaining ¼ cup of water add the 3 teaspoons of cornflour and combine until a nice smooth paste is formed.
Add the paste to the saucepan and mix until all combined. (You will need to play this one by ear, if its too thick add a little more water, if it's not thickening after a few minutes of heat add a little more cornflour, one teaspoon at a time - see notes).
Chop your carrots and pineapple into bit size pieces.
Add the chicken, carrots & pineapple to the lemon mixture and combine.
Serve over rice.
Notes
If your sauce is to thin, remove about ¼ cup of the liquid and then add one teaspoon of cornflour and mix until smooth and return this to the saucepan and combine. If you try adding cornflour straight to the saucepan you will likely find that it will clump up and be hard to remove the little lumps of cornflour

Taste test the sauce to see if it is sweet or sour enough for you, I like a lemony lemon chicken so this recipe is on the sour side but still does have some nice sweetness to it.
This skinny lemon chicken was really tasty and had just the right amount of sweet and sour. It was also super easy to put together and didn't take long at all.
What is your favourite takeaway?? – Comment below and let me know, I love hearing from you!